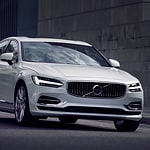 What comes to your mind first when you hear the name Volvo S90? If you're like most, you think of luxury because the S90 is a popular luxury sedan. If you think of safety, then you must have driven or ridden in the S90 because this vehicle is a truly safe vehicle. Out team at Junge Volvo Cars would love to show you the many safety features included in the Volvo S90. Here are two popular safety features.
• Whiplash Injury Protection, which is available in all Volvo vehicles, involves a specific seat that supports the neck to prevent whiplash from an accident.
• Blind Spot Monitoring watches the areas that you can't see because of the blind spot and alerts you of potential hazards.
You may have heard of many of these safety features but never seen them in action. If this is the case, stop at the dealership in Hiawatha and take the Volvo S90 out for a test drive.