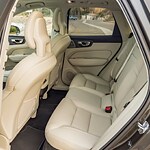 When it comes to mid-size SUVs, few automobiles can outclass the Volvo XC60. This popular mid-size SUV is based on a luxury platform, but it can provide high-performance attributes. The breathtaking look of this SUV is hard to put in words, but here are some of the available interior features.
The Volvo XC60 offers rear seats that are configurable. Underneath the rear seats is a fold-flat storage compartment. There is enough seating in this SUV to fit at least five people. You and your passengers can ride in comfort thanks to the available supportive seats. On top of that, the Volvo XC60 will offer as much as 63.3 cubic feet of cargo space. There's a 9.0-inch Sensus touchscreen that's filled with beneficial apps. Premium audio is another key feature as well as 4G LTE Wi-Fi Hotspot.
Get your drive on in the Volvo XC60 by taking a test drive at our location today.