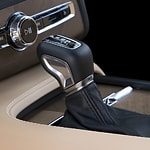 The Volvo XC90 is a remarkable and popular luxury SUV. No attention to detail was overlooked. You will love the look and feel of this SUV to the point that you might be a bit sad each time you arrive at your destination. Your passengers will have every luxury afforded to them as well.
For the driver, the drive mode settings are pretty special. There are four of them to select from depending on road conditions and driver preferences. You will notice the difference in handling as you move from one mode to another.
There is also a four-corner air suspension feature built into the design of the XC90. Everyone inside the SUV will notice the difference as you go over any type of terrain. This technology allows the suspension to automatically adjust depending on current driving conditions. Give it a try as you test drive the Volvo XC90 at Junge Volvo Cars today.